AFFORDABLE PRICING & QUALITY WORK. CALL TODAY!
Commercial Roofing in Fort Wayne, IN
Your business, shop, or other commercial property can benefit from the services of our high-quality commercial roofing company. When it comes to roofing, the needs of commercial structures are different from residential ones and you deserve a commercial roof contractor who knows how to work at the pace of your business. With over 20 years of experience, our company has excelled due to our absolute commitment to customer satisfaction and quality workmanship.
We are an Amish-owned and operated business, applying our dedication and work ethic to every project for every customer. We are proud of our many previous corporate and business customers, and we rely on their repeat business and word-of-mouth to grow our business. We are happy to provide references and examples of finished commercial work so you can be certain we're the best fit for your business roofing needs. Our success is based on outstanding results for commercial asphalt roofing and commercial flat roofing projects.
The Advantages of Commercial Asphalt Roofing
For sloped roofs, our commercial roofing contractors often recommend asphalt materials. Not only are these shingles the most popular roofing type, they are also among the least expensive. One of the major advantages of commercial asphalt roofing is its ease of installation and the proven durability of asphalt shingles. This type of shingle is also easy to replace in case of natural damage or wear and tear.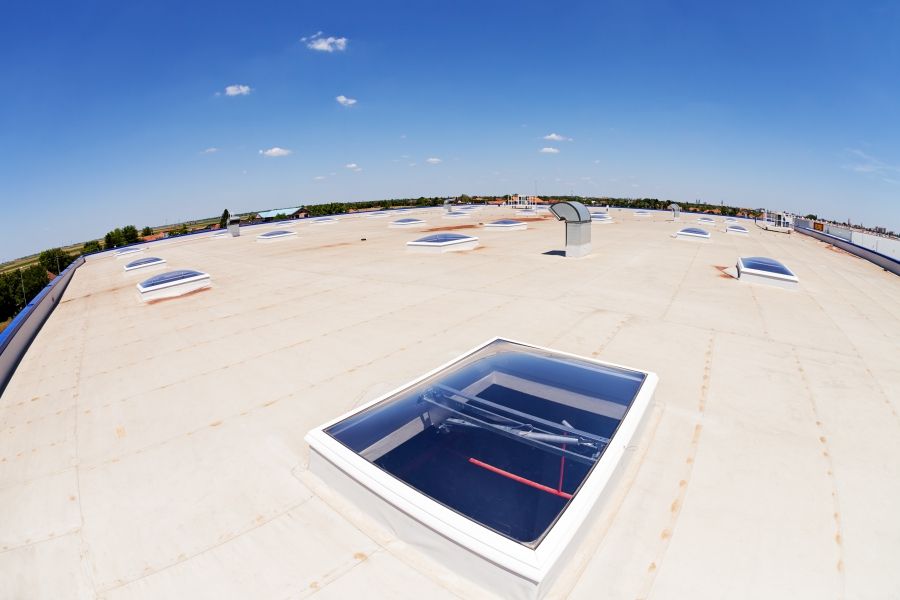 Commercial Flat Roofing for Any Property
Many commercial structures have flat roofs, which require specialized roofing materials that can withstand intense sunlight exposure and rainfall. Energy costs are also a significant portion of the budget of any business, and any reduction in those costs can be a boon to the bottom line. Acquiring low-maintenance roofing is essential, allowing you to focus on your core business. Our commercial roofing company has a full range of roofing materials appropriate to the special needs of a flat commercial roof, including durable PVC/TPO, affordable EPDM synthetic rubber, and traditional tar-and-gravel BUR.
All of our roofing experts are certified to install any of our high-quality roofing materials, and we guarantee all of our roofs for their expected lifetime. Our roofers are skilled at new roofing and commercial roofing replacement. Schedule an appointment today for a free roofing assessment and estimate. Our affordable prices and expertise will get your business looking great again.
Commercial Roofing Repair Services Tailored to Your Needs
When it comes to protecting your roof, one of the smartest investments you can make is to have it repaired on a regular basis. Regular maintenance helps to prevent your roof from developing the kind of problems that might cost you and your company a lot of money. Although it may seem like an inconvenience, having your roof repaired by an experienced company will save you money in the end. After all, what's more expensive, having your roof repaired a few times, or replacing it once?
When you work with our company, we'll provide you with superior commercial roofing repair services. Our trained roofing professionals have what it takes to handle your roofing repair needs in a hurry while providing you with excellent customer care. Don't wait until your commercial roof is in terrible shape to give us a call; get in touch with us right away to request an inspection. Not only can we fix your roof's current problems, we can also identify potential issues to prevent them from getting any worse.
As with all of our services, our roof repair professionals strive to ensure your satisfaction on every job. We are dedicated to providing you with effective and efficient repair services. If you're in need of roof repair services, give us a call right away. The longer you wait, the worse your roof problems will become. If you fail to take care of necessary roof repairs in a timely manner, it could result in serious damage to your business, especially in the event of a leak. Don't place your property investment at risk any longer; get in touch with us today to take advantage of our convenient services.
Contact us today to get a great new roof for your business. We serve customers in Fort Wayne, Angola, Bluffton, Marion, and Grabill, Indiana.
Get Your Free Estimate Today!